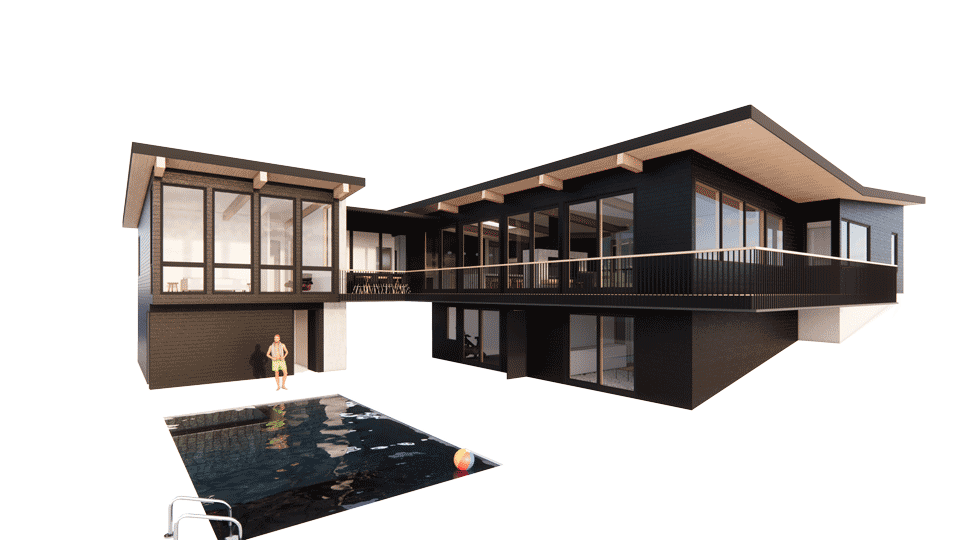 ---
Mariposa Residence
2022 (permitting)
Everett, WA
5,500 sf single family residence
A new residence for a young family on a sloped lot with panoramic views of the Puget Sound.
Nestled at the top of a steep lot, the Mariposa Residence was designed to capture the panoramic beauty of the Puget Sound. Our clients, the second-generation property owners, had a vision for a home that would seamlessly blend with their active lifestyle. They sought an open and flexible floor plan that would enable year-round indoor and outdoor entertainment, even in the face of the region's unpredictable oceanic climate.
Situated into the natural slope of the lot, the residence maintains a discreet street-facing profile while making a more dramatic statement from the backyard. Low-sloped shed roofs frame the panoramic views of the Puget Sound and Olympic Mountains and extend over the exterior decks to provide shade as well as protect the 50 foot long opearable facade at the living room and kitchen areas. When this facade is fully opened, the available entertainment space at the main level is effectively doubled.